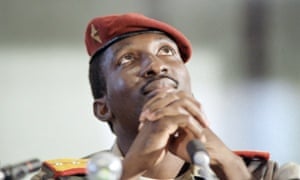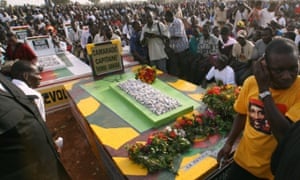 The exhumation of what are believed to be the remains of Burkina Faso's former President Thomas Sankara has begun.
Once exhumed they can be formally identified - a long-standing demand of Mr Sankara's family and supporters.
Seen as Africa's Che Guevara, the anti-imperialist revolutionary was hastily buried with 12 others in a 1987 coup.
Permission for an exhumation was denied during the rule of his successor, Blaise Compaore, who left office last October amid street protests.
Africa news updates
Mr Compaore has always denied being involved in the ex-leader's killing, insisting that the "facts are known" and he has "nothing to hide".
While he was in office, a Burkina Faso court blocked a request by Mr Sankara's family for his remains to be exhumed.
But the new interim government said Mr Sankara's family would be given the means to help identify the corpse, according to the AFP news agency.
Hundreds of people went to the graveyard where the exhumation is taken place in the Burkinabe capital, Ouagadougou, but were not allowed in by security forces, a local journalist reports.
Miriam Sankara, the former leader's widow, told the BBC French Service in March that the family wanted the judiciary to exhume the corpse.
Security forces, top, keep watch near the Dagnoen Cemetery, as the graves of thirteen people including Burkina Faso revolutionary leader Thomas Sankara, are exhumed on the outskirts of Ouagadougou, Burkina Faso, Monday, May 25, 2015. Sankara, a widely admired figure across Africa, was killed along with 12 others under unclear circumstances in the 1987 coup that brought his former best friend Blaise Compaore to power
Who was Thomas Sankara?
A captain in army of Upper Volta, a former French colony in West Africa
Instrumental in the coup that ousted Col Saye Zerbo as president in 1982
Took power from Maj Jean-Baptiste Ouedraogo in an internal power struggle and became president in August 1983
Adopted radical left-wing policies and sought to reduce government corruption
Changed the name of the country from Upper Volta to Burkina Faso, which means "the land of upright men"
Killed in mysterious circumstances by a group of soldiers in October 1987
"And if they do it, it should be in the context of a judicial process that we have always demanded, in the context of finding out the truth and the helping in the search for President Sankara's murderers," Mrs Sankara said.
Her husband became president in 1983 after an internal power struggle. He led his country for four years until his death at the age of 37.