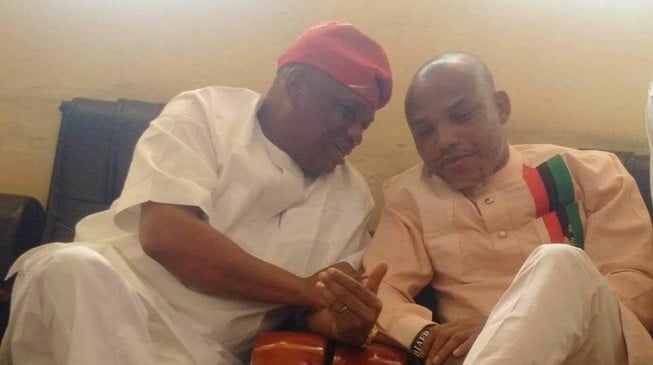 The Indigenous People of Biafra (IPOB) has berated Orji Kalu, former governor of Abia state, for saying its leader Nnamdi Kanu is currently in the UK.
The former governor had said Kanu travelled to the UK through Malaysia.
"Nnamdi Kanu is in London right now as we speak. He was not arrested by anybody. He left the country on his own,"
he said on Sunday
.
IPOB however dismissed Kanu's claims as "spurious," saying the businessman is on "hallucinogenic drugs".
Emma Powerful, the group's spokesman, said the former governor is only trying to escape prosecution by the Economic and Financial Crimes Commission (EFCC).
Kalu is being prosecuted for alleged money laundering during his time as governor by the anti-graft agency.
"His (Kalu's) spurious claim that the overall leader of IPOB, Mazi Nnamdi Kanu, has made his way to London via Malaysia, is a confirmation that he would do or say anything to escape his ongoing corruption scandal," Powerful said in a statement.
"Worse still, he might be a hapless victim of a well orchestrated blackmail by his Hausa/Fulani Islamic masters or on hallucinogenic drugs."
The pro-Biafran group accused Kalu and his ilk of selling the collective interest of the Igbo which "didn't start today but their era is coming to an end.
"Both the United Kingdom and Malaysia are civilised countries and not as corrupt as Nigeria, where there is no accurate record of migration in and out of the country.
"What Orji Uzor Kalu is saying in essence is that the United Kingdom government officials are lying when they rightfully demanded the whereabouts of Mazi Nnamdi Kanu.
"For the information of those who may have fallen for the barefaced lies of Orji Uzor Kalu, United Kingdom is an island and near impossible to enter without being documented.
"If our leader is in the UK, their government will not bother demanding that he be produced by the Buhari regime."
The Cable