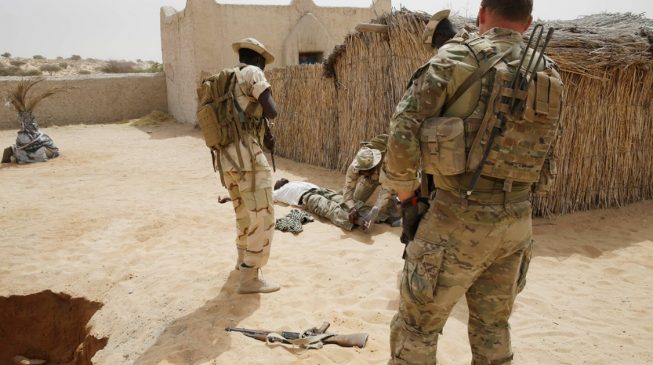 Three US soldiers have been killed and two others wounded in an ambush in Niger near the border with Mali.
The Pentagon announced this on Wednesday, revealing that two other US soldiers were wounded in the attack, which took place while they were assisting Nigerien counter-terror operations in the troubled area.
The slain soldiers were not identified, but media reports say they were Green Beret special forces in Niger to train local forces.
The US soldiers had been providing advice and assistance in Niger's counter-terror operations and come under "hostile fire", it said.
Some militants, including al-Qaeda fighters, operate in the region.
They are most active in neighbouring Mali, where French troops intervened in 2013 to prevent them from advancing on the capital.
The Boko Haram group has also staged several attacks in Niger.The attack happened 200km (124 miles) north of Niamey, the capital of Niger, the US Africa Command statement said.
"The two injured US soldiers had been evacuated to the Landstuhul Regional Medical Centre in Germany and were in a stable condition," the statement read.
According to the New York Times, those killed were special forces soldiers and were the first Americans to die as a result of hostile fire since the US Africa Command deployed in Niger.
This attack will draw attention to the presence of US troops, not just in Niger but in other countries too. In a letter to Congress in June, President Trump confirmed there
In a letter to Congress in June, President Donald Trump confirmed there were 645 military personnel deployed to Niger to support counterterrorism missions there.
The US has long maintained that its troops play a "train, advise and assist" role with its partners, whether in the Sahel or the Horn of Africa.
Editor's note: This picture was used for the purpose of illustration.
the cable